You can't visit Marseille without visiting the calanques. Marseille Tourisme offers you a walk in the heart of the Calanques National Park. This family-friendly and easy hike invites you to reach the Calanque de Sormiou via the Col des Baumettes.
The Calanque de Sormiou is the most popular for the locals. It is inhabited and bordered by sheds, which is quite rare for the calanques. In this picturesque area, you can fish, hike and climb. The seabed is rich in fauna and flora that should make divers happy.
Think about your masks and snorkels! The Conseil Général has made a parking lot available at Les Baumettes to facilitate your access to the hiking trail. The trail begins with the Morgiou path. You will follow the way leading to the calanques, you will be able to admire a river as well as pine forests. Then, the hiking trail will offer you a magnificent view to the highlight of this circuit: the Calanque de Sormiou. While going down to the Calanque de Sormiou you can recharge your batteries in one of the restaurants just a stone's throw from the beach. Be careful because in summer, it is a calanque that attracts many tourists!
As with any hike, you must be well prepared before leaving: a bottle of water, sunscreen, a hat and good shoes are essential for a safe hike.
How to get to the start of the hike?
By car From Marseille City Hall (12.7km - 25min): Take the Joliette tunnel then the Prado-Carénage tunnel, the Prado S tunnel. Follow Boulevard Michelet/D559 towards Boulevard Camille Blanc. Take Avenue Ludovic Legre and then Chemin du Roi d'Espagne towards Chemin de Sormiou. Park in the parking lot at the entrance to the Parc des Calanques in La Cayolle. Follow the detailed itinerary by clicking on this link. You can also take the bus n°23 at the roundabout of Le Prado and stop at La Cayolle.

Hike Info
Distance:

6.46 kilometers

Difficulty:

Duration:

54 minutes to 2 hours
Points of Interest
Results ordered alphabetically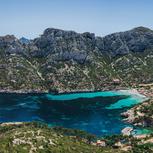 Sormiou is one of the most beautiful creeks in Marseille National Park and undoubtedly the favourite calanque of the inhabitants of Marseille. Far from the city, you can rest and admire the magnificent view from the calanque.