Les Goudes, starting point for the Calanques de Marseille
This tour will take you along the wild coastline of Marseille. Take your swimsuit, a towel and start with a small dive in the Calanque des Trous. Often crowded (the cove is very small), we advise you to depart in the early morning to take full advantage of the serenity of the area; a mystical aura emerges from the coastline, the beauty of the landscape is breathtaking.
Let's go to Les Goudes, a fishing village in the 8th arrondissement of Marseille that has kept its authenticity. Take a break to sit at a local restaurant. Do not hesitate to chat with the inhabitants, who are always happy to tell anecdotes about their precious village.
If you still have energy, you can walk towards Le Fortin Napoléon. You will then find a small fortification built during the time of Napoleon III to defend the coast.
Gateway to the Calanques National Park, Les Goudes is the starting point for many hikes. You can not visit Marseille without going to the calanques. True jewels of nature, the creeks offer beaches and crystal clear waters for the greatest pleasure of visitors. You can also go there by boat if you are not a huge fan of trekking.
Remember to wear good shoes if you are going to reach the Calanques of Marseille ;-)

Hike Info
Distance:

2.89 kilometers

Difficulty:

Duration:

24 minutes to 40 minutes
Points of Interest
Results ordered alphabetically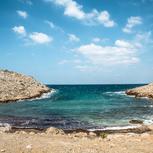 L'Anse de la Maronaise... a real paradise! Between Les Goudes and Baie des Singes, the creek shelters a small beach....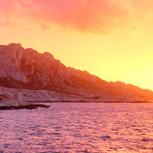 "Go throw yourself in Les Goudes" as they say in Marseille. Why? Because it's the end of the world and it's beautiful, it's quiet, except in the summer.